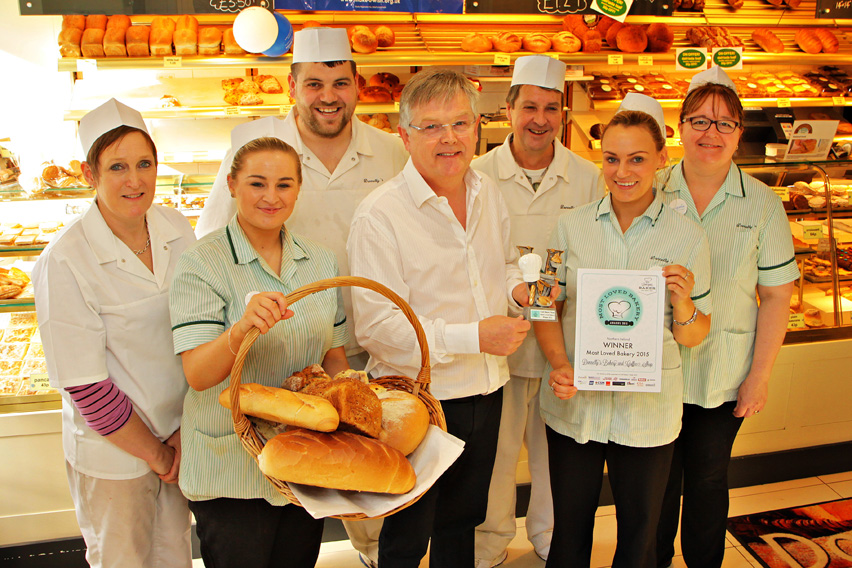 Year of Food & Drink NI
February's Love Local Interview
It's the Year of Food and Drink here in Northern Ireland, and to celebrate we are interviewing some of our favourite foodie folk month by month. February is all about Love Local so we decided to have a chat with our local bakers-only 3 miles down the road.
 Those who know and love our tasty burgers will already be au fait with Donnelly's Bakery-it's their delicious floury baps we use to encase our yummy billy burgers! A stones throw away from our farm, their family run bakery is nestled in the heart of our local town, Ballycastle.
In business since the 70's the bakery is the kind of business that we love to get behind and support!
In celebration of Donnelly's bakery winning Most Loved Bakery in Northern Ireland at the Craft Bakers week we thought we'd share this quick Q&A with current owner Eugene Donnelly.
Q&A: Donnelly's Bakery
What three words sum up Donnellys bakery? Quality, Value and Service
Favourite bread to bake? We bake a huge range of breads; Irish Soda Breads, European Breads, Healthy Option, Seeded Breads, Brown, White even Dulse Bread but by far our favourite to bake (according to our bakers) is the last batch of the day!
Future plans for Donnellys? After being voted Most Loved Bakery in N. Ireland, we will focus on trying to live up to the title – not an easy task!
Fave spot in Northern Ireland? Anywhere on the North Coast
3 things about Ballycastle that you love? The people, the community sprit and it's a great place to live even if the sun isn't shining!
What do you love best about Broughgammon's products? They are not only tasty but quite unique and produced by a family business that cares about quality….a good recipe for success!
Donnelly's Bakery is located on 28,Ann Street, Ballycastle, Co.Antrim 028 2076 3236 Open Monday-Saturday 7am -6pm
Other Local Foodie Businesses we LOVE:
Babushka Cafe- Delicous food and coffee
Ursa Minor-an amazing bakery and cafe based in Ballycastle
Lost & Found-our favourite place for a cup of coffee
 [et_bloom_inline optin_id=optin_2]