For us, the first thing that springs to mind when we think of Northern Ireland's heritage and traditions is seaweed. There's something slightly mystical and romantic about harvesting and using seaweed that really captures people's hearts. Seen as a wild free food, folks around here (aka Ballycastle in Co.Antrim) still wrap up warm and brave the chilly shores for a fistful or two of sea lettuce or the illusive Carageen.
I remember when I first spotted carageen. It really was a magical moment. We had gone out for our annual seaweed harvesting and were about an hour into it, slugging our nets around and slowing filling them with various species of seaweed, when I noticed a glimmer in the water. Like an iridescent opal sheen, it was radiating from a small shy looking seaweed that I would of never looked twice at usually. After excitedly calling out at the others to come and look, we discovered that indeed it was carageen! I didn't pick any that day but I do look forward to the next harvest and spotting it again!
Don't forget you can join us for a day of seaweed harvesting and a seaweed inspired lunch-click here for more info.
Our favourite Seaweed Recipe is this one that our local cafe Thyme & Co gave us. It's absolutely delicious paired with some local cheese or Abernathy butter.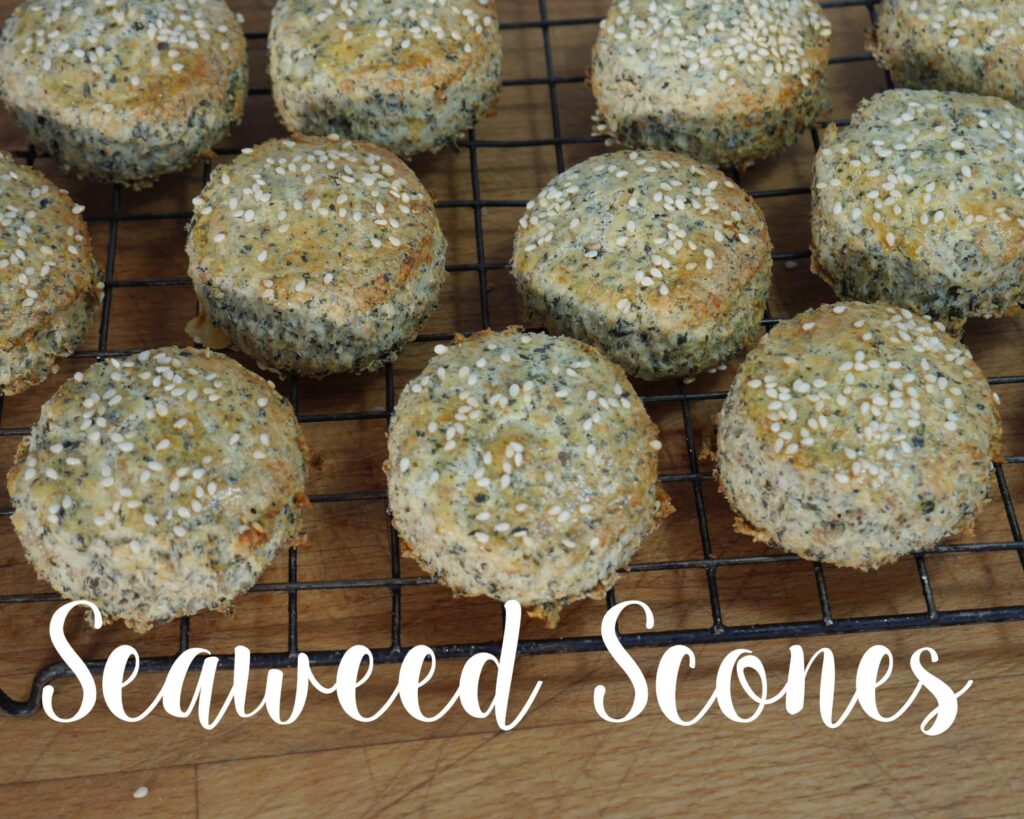 Wakame Wheaten Seaweed Scones:
Ingredients:
226g Self Raising Flour,226g Course Wholemeal Flour, 1 tsp Baking Powder, 28g Caster Sugar, 57g Wakame flakes, 113g Diced Butter, 1 Egg, 57g Cream, 200ml Milk, 113g Chedder Cheese Grated.
Method:
Add flours and baking powder to a bowl and stir in the sugar and seaweed flakes. Work in the butter with the tips of your fingers until crumbly. Now add in the egg, cheese, cream and milk. Mix well together until you have a dough. Roll out the dough onto a floured board until even and 2 inches thick and cut out shapes with a scone cutter. Place shapes onto a lined baking sheet and brush an egg wash over the tops. Bake in a preheated oven 180ºC for about 15minutes or until cooked and golden.
[et_bloom_inline optin_id=optin_2]